What an evening I had yesterday, at the Ethical Fashion Show. Well expect my full account on that later on. For now check out Oladunni Igbinedion's O'Emporium line from True love magazine spread. The picture above just happens to be my favorite. I love 50's style lace, it is not overwhelming. It is simple and classy. May I say not a bad price either looking at the tags on the dresses. I love true love magazine; the picture below shows the designer Dunni with her husband.
pic by purefoto
Now check out some more pictures from fashion spread featuring designer Dunni Igbinedion of Emporium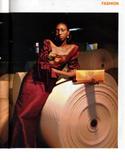 What do you think about Dunni's O Emporium style? I love it! Stylist 'Omoyemi Akerele'
Picture above is LAGOS
Entrepreneur Louise Priddy is certainly an inspiration, she opened up another swanky lounge right next to her other classy Night Club Bacchus in Ikoyi. When visiting Lagos a stop at Bacchus and Sixdegrees North is a must! Thanks once again to True love mag check out the pictures from the launch.
The stunning Louise Priddy pictured above.
Above from left to right: Conrad Clifford CEO virgin Nigeria, Louise Priddy, yemi Osindero COO virgin nigeria and Oona Priddy (Louise's sis)

What I love about this launch is her family's support of her venture. What else can an enterprenuer ask for? Pictured above are her brothers Sean Priddy and Dean Priddy.

From left to right Oona priddy, Bev Obatoyinbo of BAT, Valerie Priddy (her mom)and Yemi Osindero

Owner of SixdegreesNorth(Louise) and her father Olu Priddy. It is great to have good friends. When you go to visiting Lagos for my dear readers in the diaspora. Be sure to visit SixdegreesNorth. Pictured below Louise and friends
So readers what do you think? Have you visited SixdegreesNorth in Ikoyi? Are you thinking of ordering the Emporium line? What plans do you have for the weekend?
.