Luca Luca Oluchi's hubby recently showed his summer 2008 collection at the Mercedes Benz Fashion week! From the picture below of Super Model Oluchi. I must say she is looking simply glam. It pays to be a fashionista!
gettyimages Check out some more pictures from his runway show! I have to give it to Luca, his designs are chic and classy as always!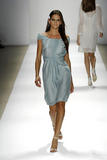 On to other fashion news, Baby Phat also showed their summer line for 2008 and judging from the style I would have to say "Fabulosity" (in the words of fashionista Kimora). Is it just my opinion or have we seen the look before? Well you be the judge!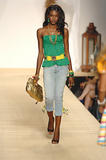 And Finally, What in the world is up with Baby Phat's swim suit? No comment on this one!
So what do you think? Which style is your favorite? Update thanks to Floacist and feelsgood2behome, Check out MJ and his chick!

pic by gettyimages
Go on sister! Or what are your thoughts on this?