We are back and loving Kiss Daniel's Yeba!! Can you say it is on repeat? Yes it is! Enjoy!
Yes! Naija hot! Rotimi took our breath away with his crooning! Hmmm Fantastic what do you think? Naijgal has spoken!
Sunday, September 17, 2017
Yes we are back. Check out this video of Prince's protege Andy Allo in Nigeria!
She hosted a master class and Jam session with her band at Sandralia Hotel, Abuja. Gorgeous! Love the braids!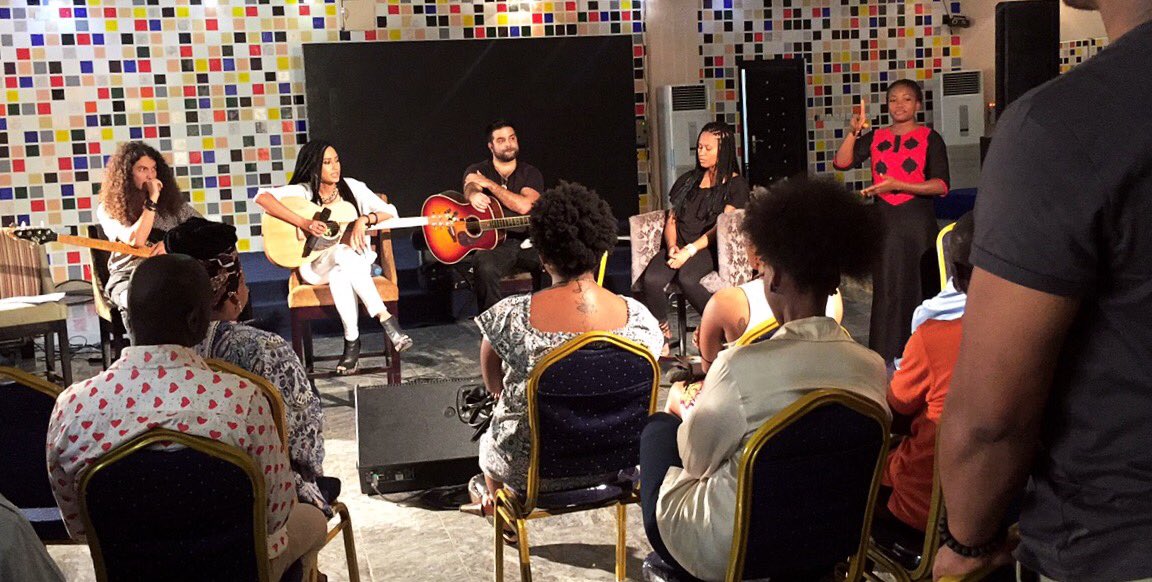 Things are about to change!
How many Naijagals are there in the world? Lets come together to make the world an amazing place Naijagal on facebook
https://www.facebook.com/naijagalcom
I am back people!! fresh stories whatever comes to this naijagal's mind. Today it is the hottest video out there: Bambi By Jidenna. Love love love this video and you will too enjoy!!!



Personally I would have gone over to him when he came chasing me down at the church or what do you say??



Naijagal Yemi Alade is making our day come alive with this amazing beautiful video! Oh my she woke us up this morning! beautiful absolutely amazing video by Yemi Alade!! A true Naijagal!
Wednesday, January 11, 2017
Naijagals are smart innovative and beautiful. Happy New year! Yes we are back and glad to be back
Megalyn Echikunwoke
Gorgeous
Naijagal just snagged the incredibly dashing Actor Chris Rock!
According to her Wiki entry:
Megalyn Echikunwoke is an American actress. She is perhaps best known for her roles as Tara Price in CSI: Miami, Isabelle Tyler in The 4400 and Mari McCabe/Vixen in the Arrowverse.
she was born in Spokane, Washington, Megalyn grew up on a reservation in Chinle, Arizona. Her father is Nigerian obviously, while her mother is of European
Can we just be honest here and say Mariah Seriously needs a vacation! Here New Year's eve snafu left us scratching our heads in amazement. We had to ask did that really happen? What do you say Naijagals? Is she in dire need of a vacation or what? You tell us!


Mariah come back to us please!
Long live Jidenna, what can we say the King is born! We love his  latest track which just got released yesterday, It is his time and boy can we just say our fingers hurt from hitting the replay button! We are not going to stop, though, Yes sir!!! Long live Chief Jidenna. The Naijagal council has spoken!!
Saturday, August 20, 2016
Hi Readers, yes I am truly back why do people keep on asking? And Yes I am freaking Real! I am going to take this blog to new heights! Here is what we are going to do. Positive stories mainly featuring my Naija gals but you know what I love some tea too so who knows. Well my story today is the Cover of Essence.
I was walking down a grocery store aisle and what do I see right in front of me? Bam!! Our very own Naijagal Star Actress Uzo Aduba Orange is the new black on the cover!!! I wanted to yell but I held back! Grabbed my copy (I am still reading it) but just in case you haven't gotten yours, you should really check it out! Red really works with you girl!!!
It is Fire! Fire Fire!!!
Uzo Aduba's story is drastically different from that of her Orange is the New Black character's, Suzanne "Crazy Eyes" Warren.
For starters, the 35-year-old actress is a self-admitted thrill seeker who is a fitness junkie and who boasts not one, but two Emmys. Oh, and she completely stuns on the cover of our September issue of ESSENCE.
"This business will try to convince you that you're not enough," she says in her cover story. "That you're not pretty enough, thin enough, talented enough, interesting enough, experienced enough, and I say, 'Enough. Enough with that!'"
Aduba explains that she struggled to merge her Nigerian roots with her Boston upbringing (she once asked her mother if she could change her name to Zoe). It wasn't until she discovered acting that she began to truly find herself.
Aren't we all trying to find ourselves? Great work Uzo! You make Naijagals Proud!!
Thursday, August 18, 2016
Hey readers it has been a while. How have you been? Naijagals where are you ? I know I have been missing for a minute but I am back back back!! Have you heard this track.It is beautiful!! Adekunle Gold strikes Gold with this smash video. Let live everyday in happiness. Happy is the one who smiles when he thinks of the day's burden, Have a blessed day while I dance!!!!

Wednesday, August 17, 2016






http://princeonlinemuseum.com/lotusflow3r/th3b0mb.html
#TatyanaAli showing us how pregnant girls rock in the club! Omg cuteness overload!!



This is why we love Tiwa Savage:
She is amazing and real.
She prays and holds no grudges
She still gets down to business even when things are rough at home
She is humble
She loves her husband and tried to make her marriage work
She loves her fans
She lives a simple life regardless of her celebrity status
She continued a tough interview with a less than enthusiastic interviewer!
She is dedicated to her son Jamil
She is a true Naijagal
I am dealing with alcohol problem, infidelity, cocaine, bad debt and a husband who is jealous of his wife's success! Our Naijagal Tiwa Savage reveals her anguish, pain and the truth behind her marriage and her husband's suicidal break down.
Tiwa savage finally breaks her silence. She talks about her husband's infidelity meeting a lady in hotel in a hospital while she suffered complications from pregnancy at a hospital in London. She covered up so much to make her husband feel like the man. The head of the household. Since the birth of her son TJ has not spent a single Naira on her son! He claimed he did not have money for diapers but he had money to cut his hair and take women to hotel rooms.