What an evening I had yesterday, at the Ethical Fashion Show. Well expect my full account on that later on. For now check out Oladunni Igbinedion's O'Emporium line from True love magazine spread. The picture above just happens to be my favorite. I love 50's style lace, it is not overwhelming. It is simple and classy. May I say not a bad price either looking at the tags on the dresses. I love true love magazine; the picture below shows the designer Dunni with her husband.
pic by purefoto
Now check out some more pictures from fashion spread featuring designer Dunni Igbinedion of Emporium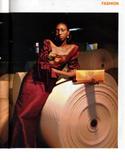 What do you think about Dunni's O Emporium style? I love it! Stylist 'Omoyemi Akerele'
Picture above is LAGOS
Entrepreneur Louise Priddy is certainly an inspiration, she opened up another swanky lounge right next to her other classy Night Club Bacchus in Ikoyi. When visiting Lagos a stop at Bacchus and Sixdegrees North is a must! Thanks once again to True love mag check out the pictures from the launch.
The stunning Louise Priddy pictured above.
Above from left to right: Conrad Clifford CEO virgin Nigeria, Louise Priddy, yemi Osindero COO virgin nigeria and Oona Priddy (Louise's sis)

What I love about this launch is her family's support of her venture. What else can an enterprenuer ask for? Pictured above are her brothers Sean Priddy and Dean Priddy.

From left to right Oona priddy, Bev Obatoyinbo of BAT, Valerie Priddy (her mom)and Yemi Osindero

Owner of SixdegreesNorth(Louise) and her father Olu Priddy. It is great to have good friends. When you go to visiting Lagos for my dear readers in the diaspora. Be sure to visit SixdegreesNorth. Pictured below Louise and friends
So readers what do you think? Have you visited SixdegreesNorth in Ikoyi? Are you thinking of ordering the Emporium line? What plans do you have for the weekend?
.
Saturday, September 29, 2007
You would not be disappointed dear readers, if you have not already subscribed be sure to do so. You do not want to miss the next post!
Friday, September 28, 2007
pic by John Smock
Oh I am so loving this! His mum looks fabulous! Tameka is glowing, love is in the air. This is certainly a classic picture from associated press, John Smock. What do you say readers?
Wednesday, September 26, 2007
picture from
vogue
I realized I have not posted bollywood stories lately, and for that I do apologize. Well lets just say I got super excited when I saw the maiden edition's cover for Indian Vogue! Finally, a beautiful cover nonetheless. Nice to see vogue has finally ventured into the international market. Now the question is will they venture into Africa. If Conde Nast is reading this, I wouldn't mind heading the maiden African Edition. On the cover of this historic/collector's item are Gemma Ward (center) who coincidentally was also on the cover of the maiden Chinese edition, also featured on the cover are Bollywood stars Bipasha Basu, Priyanka Chopra and Preity Zinta, local supermodels MoniKangana Dutta and Laxmi Menon.
So ladies reading this from india, what are your thoughts?
Wednesday, September 26, 2007
Many times I do not say thanks to the readers of this blog but i am really grateful for your support. I especially want to thank the visitors yesterday over 1000 visitors in 12 hours amazing! Keep reading the blog and thanks for your comments. I will say this though, this blog will be in transition, what that means is this, naijagal might take a new direction or may just go offline. The choice is yours.
Wednesday, September 26, 2007
WWW.FASHIONISTAHUB.COM
JUST LAUNCHED!
The site is currently in beta testing, check out the site join, create your blog and if you are reading this site then you are a fashionista!
Tuesday, September 25, 2007
HOUSE OF
J'OLA
FOUNDER ON THE RIGHT JOY
So recently, the fabulous house of
jola
launched in
Ikoyi
Lagos and you know the
fashionistas
were out in style. Check out a cross section of the stylish dames that graced this wonderful occasion
Finally, you know you are a celebrity when you are seen in the style magazine and here is a picture of our own fellow blogger and may I say true style icon
Adaure

!
Hmm
can
Naijagal
get a job at
silverbird
? kudos lady keep it up.
Now check out a nice beach house in Lagos thanks to skyscraper city!
So what do you say?
Monday, September 24, 2007


He mistakenly broke his precious award but hey there is always super glue right?
Saturday, September 22, 2007
Aside from a previous glitch, thanks to PASTICHE GROUP, a group I will personally not recommend, yours truly headed over to the classy French Embassy in Georgetown for the Runway Africa show.
The event went off without a hitch, the fashionistas were out and about. Guests were treated to a giveaway bag, which I heard a couple of guests questioning the contents of the bag, which had only water and a couple of pamphlets. My take is this could they have been expecting a small bottle of "Amarula" (the drink from the sponsors of the show). If that were the case they were quite mistaken.
The lowest entry fee was $40 so perhaps this was the reason why some folks were expecting a lot more in terms of the content of the bag.
Sika started off the show with her delightful designs (coincidentally, entrepreneur fashionista runway Africa founder, Clarissa in the picture above, wore one of SIKA'S designs). This was then followed by a sexy stylish lingerie show. BeezyMilan rocked the show with artsy designs. Of course, Blokesndivas from Nigeria did not dissapoint! I got a chance to meet the designer, Patrick and may I say he is quite charming and unassuming.
After the runway show, everyone headed over to POSH restaurant, which was also a lot of fun. But Naijagal had to leave early. All in all, a well put together program, kudos to Clarissa for making a dream a reality. Oh and the program raised money for the charity founded by IMAN called keep a child alive!
Monday, September 17, 2007
http://www.avaniribbon.com/
This is a company that promotes ethical fashion! Founded by Priya Patel, a dedicated fair trade fashionista. Be sure to check out the international ethical show for readers in dc!
Saturday, September 15, 2007
It has been a while, well dance friday is back!
Enjoy the video below from B'Clean called Ewo!
I am loving this one by BRACKET called happy day!
Also check out pictures from the just recently held MISS UNIVERSITY 2007 in Lagos. Pictures from the cool photographers purefoto.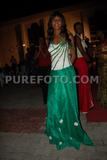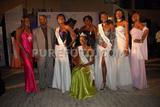 Nice pictures wouldn't you say? So what are you up to this weekend?
Friday, September 14, 2007
Luca Luca Oluchi's hubby recently showed his summer 2008 collection at the Mercedes Benz Fashion week! From the picture below of Super Model Oluchi. I must say she is looking simply glam. It pays to be a fashionista!
gettyimages Check out some more pictures from his runway show! I have to give it to Luca, his designs are chic and classy as always!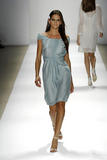 On to other fashion news, Baby Phat also showed their summer line for 2008 and judging from the style I would have to say "Fabulosity" (in the words of fashionista Kimora). Is it just my opinion or have we seen the look before? Well you be the judge!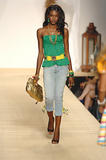 And Finally, What in the world is up with Baby Phat's swim suit? No comment on this one!
So what do you think? Which style is your favorite? Update thanks to Floacist and feelsgood2behome, Check out MJ and his chick!

pic by gettyimages
Go on sister! Or what are your thoughts on this?
Thursday, September 13, 2007