Thanks to naija's premier photograhers purefoto, here is my take on the fashions from Thisday festival.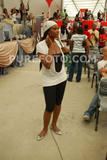 Now here are pictures from the just recently held Nigeria Entertainment Awards in New York. This is going to be a weekly wednessday question of whose style is hotter!
Now readers you tell me whose style is hotter! Is it the fans from home or the fans from the diaspora ?